Deutsche Website

---
Castle, Manor House or Farm House?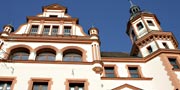 Information about the classification castle, manor house or farmhouse. Surely you must have asked yourself by which criteria we sorted the listing of manor houses and castles.
---
So that your dream does not become a nightmare
A real estate portal dedicated to castles and manor houses in Mecklenburg-Vorpommern and Brandenburg that supports you in every phase of your project's development.
---
Manor House (castle) Alt Sammit
Alt Sammit was first mentioned in documents written in 1274. A castle of the von Weltzien family stood here, destroyed during the Thirty-Years War 1638.
---

---

---
At approx. 1670 the von Weltzien family has a new manor house erected with the appropriate stables and servant's houses, falling into disrepair until the end of the 19th century. 1793 the Weltzien's family fiefdom expired and it changed hands quickly. The manor house in its current form was build from 1880 to 1888. It is a stately red building of two storeys height, built above a cellar made of cobblestone. There is a mezzanine under the brick-made saddle roof. The house is thirteen axes wide and there are a tri-axial middle risalit on the west side, a two-axial middle risalit on the east side and four tri-axial side risalits. After the Second World War the house was used by refugees, 1970 the publicly-owned stud farm Ganschow moved in and ran an education and recreation home until 1990. After five years of vacancy and dilapidation it became private property and was caringly restored.
Since May 2007 holidays may be spend in the holiday flats and a conference centre was opened up.
---
Structure of ownership:
| | |
| --- | --- |
| since 1274 - 1793 | von Weltzin family |
| 1793-1798 | court hunting squire Carl Franz von Plessen |
| 1798-1800 | Hermann Flügge |
| 1800-1825 | Johann Christian Alexander Könemann |
| 1825-1832 | Heinrich Seeliger |
| 1832-1834 | L. F. Lübbe |
| 1834-1838 | Dr. Georg Heinrich Franz Wertheimer |
| 1838-1851 | Georg Karl Riedel |
| 1851-1873 | Eduard Diederichs |
| 1873-1877 | von Meyenn family |
| 1877-1890 | Eduard Krause |
| 1890-1897 | Johann Paul Wilhelm Günther Ehlermann |
| 1897-1904 | Heinrich Eickhoff |
| 1904-1915 | Paul Möller |
| 1915-1945 | Königlicher Regierungsrat (senior civil servant) Dr. jur. Otto Hecht |
| 1945-1970 | Eigentum des Volkes (LPG) / Property of the people |
| 1970-1990 | Gestüt (VEG) Ganschow / Stud Farm Ganschow |
| 1990-1996 | Treuhand |
| since 1996 | Private owner |

---
Keywords: