Deutsche Website

---
Travelling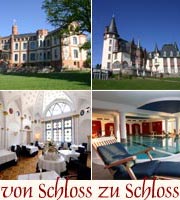 from castle to castle.
---
Holiday in Klein Kubbelkow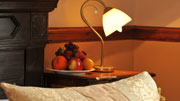 On the island of Rügen, in dreamlike peace, not far from the Baltic Sea, you reside in spacious rooms and suites.
---
Manor House Klein Kussewitz
The manor house Klein Kussewitz was converted in gothic revival style during the mid 19th century.
---

---

---
In 1803 the estate was owned by Ernst Christian Frehse, from 1868 up to 1908 the Schomann family was in possession. They sold the estate to Julius Kulenkampff. The last member of this owner family committed suicide in 1945 as Russian troops invaded.
After 1945 the manor house was used for residential purposes, it also accommodated the communal office, a doctor´s surgery and a pub.
At the beginning of the 1990s the residents moved out and the building stood empty and became dilapidated. New owners were found in 2002 who have restored the manor house in recent years and since use it for residential purposes. To the listed building manor house belongs a landscape park which was created during the mid 19th century, it has in parts been divided into plots.
---
Structure of ownership prior to 1945:
| | |
| --- | --- |
| 1704 | |
| 1751 | Dr. Spalding (Rostock) |
| (1781)-1782 | The creditors of Dr. Thomas Georg Spalding (see Groß Kussewitz) |
| 1782-1784 | Johann Jacob Adler, Court letterpress printer in Rostock |
| 1784-1792 | Senator Christian Ludwig Johann Behm |
| 1792-1800 | Councillor of the demesne Johann Joachim Georg Behm |
| 1800-1868 | Ernst Christoph Frehse |
| 1868-1887 | Therese Caroline Elisabeth Schomann nee Frehse |
| 1887-1907 | August Schomann |
| 1907-1945 | First Lieutenant (ret.) Julius Kuhlenkampff (see Groß Kussewitz) |