Deutsche Website

---
Ludorf manor in calendar 2019
---
Travelling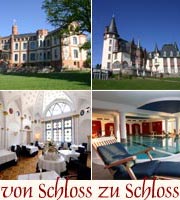 from castle to castle.
---
Holiday in Klein Kubbelkow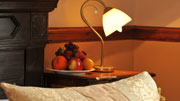 On the island of Rügen, in dreamlike peace, not far from the Baltic Sea, you reside in spacious rooms and suites.
---
Ludorf Castle Hotel
Stately luxury and relaxation in nature
Ludorf Manor is among the oldest and most beautiful manor-houses in Mecklenburg. The house was built in 1698 by the Danish royal chamberlain Adam Levin von Knuth in the style of the Danish Clinker Renaissance.
---

---

---
Marvellous ceiling paintings on wood still decorate the historical interior of the house. The English garden, extending up to Lake Müritz, was built during the golden age of Mecklenburg agriculture in the mid 19th century, as were the farm buildings grouped around the rondelle. The octagonal patron church is unique in northern Germany. It was built at the end of the twelfth century using the same floor plan as the Church of the Holy Sepulchre in Jerusalem. The Achtenhagen family has owned the Gutshaus Ludorf house since 1998. After careful restoration it was opened in 2000 as the Gutshaus Ludorf Castle Hotel.
From our 23 country-manor-style rooms, to the small Wellness area (staffed by experienced therapists), to the numerous facilities and activities around Müritz National Park everything invites visitors to relax and enjoy. The dramatic contrast between the age-old farming region on the west shore of Lake Müritz and the nature reserve on the east shore, offers guests at Gutshaus Ludorf an unforgettable experience. That helps explain why our house motto is: "Live in harmony with nature". The kitchen in Gutshaus Ludorf''s "Morizaner" restaurant uses primarily regional products and promotes the idea of the SLOW FOOD movement. The team of our chef Thomas Köpke has won numerous awards.
Gutshaus Ludorf is also easily accessible from the direction of Lake Müritz. Proceeding through the castle park for 600 metres, you will arrive at Ludorf Bridge Marina, where there is a steamboat pier and 40 marina berths.

---
Romantik Hotel Gutshaus Ludorf
17207 Ludorf, Rondell 7 - 8
Phone: 039931-8400
Fax: 039931-84020
Email: infoSPAMFILTER@gutshaus-ludorf.de
Url: www.gutshaus-ludorf.de