Deutsche Website

---
Travelling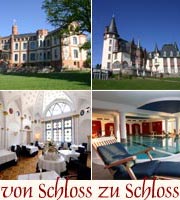 from castle to castle.
---
Holiday in Klein Kubbelkow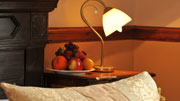 On the island of Rügen, in dreamlike peace, not far from the Baltic Sea, you reside in spacious rooms and suites.
---
Manor House Klein Strömkendorf
Between the Hanseatic City of Wismar which is about 20 kilometres away and the Baltic resort of Rerik at a distance of 10 kilometres lies Klein Strömkendorf in picturesque surroundings.
---

---

---
During the 17th century the von Stralendorff family sat here. One of the certainly best known noble families of Mecklenburg the von Bülows owned the estate from 1764 to 1789, they were replaced by a family named Lange. Eventually Georg Phillip von Brocken purchased the feudal estate in 1832, however he already sold it again in 1840 to the farmer Ernst Staunau, who during the years from 1841 to 1850 had the manor house built.
After WWII the manor house served more than 40 refugees as accommodation, later it was exposed to the then usual decay.
After the political change in Germany in 1989 the entrepreneur Gerd Milanowski from Frankfurt purchased the ramshackled building and renovated it thoroughly. However in 2016 he sold it again, it was purchased by the businessman Thomas Petsch from Würzburg and his partner the saxophonist Marita Gronau, who are now running it as a hotel together.

---
Ostsee - Gutshaus GmbH & Co. KG
18233 Am Salzhaff, Hauptstraße 1
Contact: Marita Gronau
Phone: 038294-15949
Email: officeSPAMFILTER@ostseegutshaus.de
Url: www.ostsee-gutshaus.de