Deutsche Website

---
Manor house Rothen in calendar 2022
---
Travelling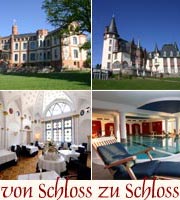 from castle to castle.
---
Manor House Renzow
Renzow was first documented in 1230. It was given the name Renzow in 1384, which is derived from the Slavic term Rantsowe. The place was formerly divided into Klein (small) and Groß (big) Renzow.
---

---

---
In 1935, the two districts were combined. From 1716 to 1773, Groß Renzow was owned by the widely-dispersed von Müller family, who also held the office of Gammelin and ran several glass production centers in Kloddram and Dümmerhütte. At some time, Renzow was also owned by the von Zülow, von Bülow, von Blücher, and von Behr knightly familie before the estate fell to the Booth family in the 19th century. The estate depicts an original Baroque building complex, the manor park is preserved and was once designed based on historical French models. The manor house served as a refugee shelter starting in 1945. After the last owner, Harry John Booth, was killed in January 1945, his wife, Gerda, took over the management of the property in April 1945. Starting in 1990, Klaus J. Booth used Renzow for agricultural purposes and later handed it over to his son, John Booth, in 2004.
One botanical peculiarity of Renzow is its avenue of copper beech trees, which is the oldest and largest avenue of copper beech trees in Europe.
Near the avenue is a well-kept graveyard of the Booth family.

---
Keywords: