Deutsche Website

---
Historical mills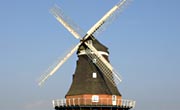 In some places these special technical monuments have been preserved. You can find many of them on the mill page.
---
Castle Kaarz in calendar 2022
---
Kölzow manor house in calendar 2021
---
Estate Köchelstorf
The former allodial estate (land freely held, without obligation of service to any overlord) Köchelstorf came with the 2500 hectare compiled estate properties of Tressow which was in possession of the Counts von der Schulenburg up to 1945.
---

---
The dynasty of the von Plessen family had originally resided in this area. Since 1751 the estates of Bobitz, Gross Krankow, Tressow, Petersdorf and Köchelstorf as well as the leased tenancies of Quaal and Käselow were owned by an extinct Danish branch of the Counts von der Schulenburg. Werner Ludwig Count von der Schulenburg from the House Hehlen upon the Weser took over the Tressow estate properties in the middle of the 19th century, the administrative centre of which was located at Bobitz. He had the palatial manor house in Tressow built in 1860/62 which is close to Köchelstorf.
While Tressow and the other properties were entailed estates and therefore could not be disposed of, Köchelstorf was a so called Allod, land freely held, without obligation of service to any overlord, which could be bequeathed within the family or even be sold.
The last owner was Johann-Albrecht Count von der Schulenburg who died in 1945 and was even buried in the Tressow park in the Schulenburg burial ground. His wife Countess Angela von der Schulenburg nee Baroness von Schönfelt left Tressow just before the end of the war together with her six children.
The estate complex is only recognisable by a few buildings, a manor house can no longer be determined.
When clearing a patch of pine trees on the estate of Köchelstorf during the 19th century a burial ground from the early Iron Age was found. The grave contained numerous urns. The discovered objects were described by the Schwerin Court Archivist G.C.F. Lisch.

---
Keywords: