Deutsche Website

---
Historical mills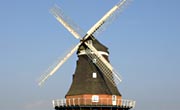 In some places these special technical monuments have been preserved. You can find many of them on the mill page.
---
Castle Kaarz in calendar 2022
---
Kölzow manor house in calendar 2021
---
Manor House Klenz
The village of Klenz and the estate were first mentioned in records of 1314. From 1372 until 1789 the estate was owned by the von Levetzow family. In 1789 Hans Georg Hartwig von Flotow was in possession of the Klenz estates until 1796 when Friedrich Count von Hahn auf Remplin purchased the property. His son Karl Friedrich Count von Hahn went bankrupt in 1816.
---

---

---
The estate Klenz then came into ownership of Dr. Israel Jacobson. In 1872 Chamberlain Carl Ludwig Jasper von Treuenfels bought the property and had the estate complex newly erected, he also redesigned the manor house which had been built in 1830.
Lizzie Walter managed the estate until 1938. After 1945 the estate became a `Volkseigenes Gut´ (state owned farm in the Communist German Democratic Republic), the manor house served residential purposes.
Since 1992 the building has been privately owned, it has been restored and nowadays forms the centre of an agricultural farm.

---
Keywords: