Deutsche Website

---
Castle, Manor House or Farm House?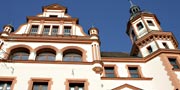 Information about the classification castle, manor house or farmhouse. Surely you must have asked yourself by which criteria we sorted the listing of manor houses and castles.
---
So that your dream does not become a nightmare
A real estate portal dedicated to castles and manor houses in Mecklenburg-Vorpommern and Brandenburg that supports you in every phase of your project's development.
---
Manor House Altwigshagen
Altwigshagen was originally an old fiefdom of the von Schwerin family. As early as in 1331, there had already been a mention of a fortified house by the name of "castrum of the Schwerins".
---

---

---
In the 15th century, the von Lindstädt family also acquired shares of the property. In 1677, the von Borcke family, an old Pomeranian nobility, traded in some Pomeranian possessions in exchange of the property. Around 1900, Hugo von Borcke built a new representative mansion in the Tudor architectural style on the foundations of an older building. The von Borcke family was forced to let go of the property after 1928.
After the Second World War, the house was used as an emergency shelter for refugees and displaced persons. During the GDR period, it was residential apartments, a village kindergarten, and the municipal office.
In the mid-1990s, the district added the estate with the manor house, the ice cellar, the barn, and the distillery in the district monument register. In 1994/95, the mayor's office and the last inhabitants moved out of the manor house and, shortly afterwards, the manor house was sold by the municipality. The new owner began with pre-construction measures and necessary safety measures, but the work was later stopped. Insufficient maintenance and lack of safety structures now characterize the building. The four-axle central risalit on the park side has collapsed, cracks in the walls indicate that the rest of the building will also collapse soon.
The park is owned by the municipality. It is partly wilted, but the sidewalks are well maintained.

---
Keywords: