Deutsche Website

---
A manor house for a whole group!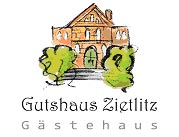 The guest house Zietlitz offers the suitable ambience for family celebrations, small seminars, groups of friends of historical manor houses; nature lovers, yoga groups and much more.
---
Manor House (Castle) Fincken
Before 1400, Fincken was owned by the von Priegnitz family. In the 15th century, it was purchased by the von Grambow family and then again by the von Priegnitz family, who later sold it to the von Blücher family.
---

---

---
The property remained in the von Blücher family from 1759 until 1930 when the estate was divided up. The manor house was constructed in 1801 under supervision of the Berlin Construction School. A hall-like structure in Tudor architectural style was added on the park side between the 1850 and 1860. The landscape park with a mausoleum was created in the first half of the 19th century. The extensive complex is still preserved. The building was reconstructed in 1974/75 and, thereafter, used as a company vacation home.
After the manor house was used as a hotel for a short period in 1990, it was taken over by the Güstrow district consortium.
The building has been vacant since the regional deaconry moved out. One of the remarkable features in the village is the castle, which is one of the few that have been preserved and maintained to date.
---
Structure of ownership prior 1945:
| | |
| --- | --- |
| 1712-1760 | von Pederstorf family |
| 1760- | von Blücher family |
| (1781)-1792 | |
| 1792-1842 | Canon Ludwig Gerhard Hartwig Count von Blücher (see Bütow and Gotthun) |
| 1842-1876 | Adolf Graf von Blücher (see Bütow and Gotthun) |
| 1876-1877 | heirs of Adolf Graf von Blücher |
| 1877-(1929) | Wolfgang Friedrich Franz Leonhard Count von Blüchow (see Bütow) |
| 1930 | opened to settlements |
| 1936 | 42 settlements |
| 1938 | 74 settlements |

---
Keywords: