Deutsche Website

---
---
Travelling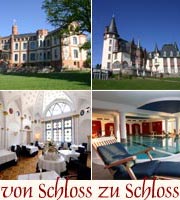 from castle to castle.
---
Holiday in Klein Kubbelkow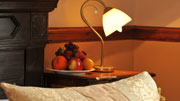 On the island of Rügen, in dreamlike peace, not far from the Baltic Sea, you reside in spacious rooms and suites.
---
Volzrade Manor
Volzrade lies on the Jabeler Heath not far from the Elbe River. The estate was in the possession of the von Pentz family until the dispossession of Carl August von Pentz in 1945.
---

---

---
Supposedly the manor house has stood on this spot for 700 years and has been rebuilt repeatedly from the ground up. The current three-storey plastered structure was erected in two stories in 1839/1840 and in 1863 was enlarged with the third storey. The building had various uses from 1945 to 1990, for example, as the village cooperative store, but it served mainly as housing. The manor house found itself once more in the possession of the von Pentz family after 1994 and was again used for housing. For a short period in 2010 new owners employed the house as a seminar facility. Behind the house is a garden and a park of about 30 hectares (74 acres).

---
Kontakt
19249 Volzrade, Gutshausallee 14
Contact: Elisabeth Neufeld-Picciani
Phone: 038855/788494
Email: gutshaus-volzradeSPAMFILTER@t-online.de
Url: www.gutshaus-volzrade.de