Deutsche Website

---
Weddings & celebrations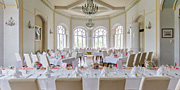 in the stylish ambience of Gamehl Castle - the faithfully restored ballroom offers room for 80 people.
---
A manor house for a whole group!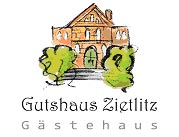 The guest house Zietlitz offers the suitable ambience for family celebrations, small seminars, groups of friends of historical manor houses; nature lovers, yoga groups and much more.
---
Manor house Ganzow in calendar 2022
---
Manor House Groß Potrems
Groß Potrems was first mentioned by name in 1373. The manor house was built in 1871, burnt down in 1879 and rebuilt in 1891 in late neo-classical style as a rendered brick building with an extensive estate complex.
---

---
Groß Potrems is presented in the two calendars of 2018:
---
The observer can see two coats of arms with the dates 1879 and 1891 above the entrance portal, indicating the terrible fire and the completed reconstruction. The estate had been under the ownership of the von Bülow family for over 300 years. Other owners followed such as the Rostock businessman Johann Prüssing, until it passed into the ownership of the von Gadow family in 1804. Friedrich v. Gadow (*1774) purchased the Groß Potrems (620 ha.) estate with the small farm Wendorf (200 ha.) near Laage in Mecklenburg in 1805. Wendorf was sold in 1935. The v. Gadow family (Hans v. Gadow (*1907) and his wife Mechthild v. Gadow, maiden name. v. Plessen, and their four sons were expropriated by the land reform and expelled in February 1946. The manor house served as a municipal event centre and a shop after World War II. A Berlin hotel and estate owner purchased it in 1993. Year-long renovation work started and finished with the opening of the Schlosshotel Nordland in 1996. The von Gadow family burial plot is in the centre of the extensive park surrounded by a stone wall. The whole estate, including park and family burial plot, is listed.
---
Structure of ownership prior to 1945:
| | |
| --- | --- |
| 1716-1768 | von Clausenheim family |
| 1781-1805 | Gustav Johann Friedrich von Klein (with Wendorf) |
| 1805-1855 | Friedrich August Wilhelm Ludwig von Gadow |
| 1855-1886 | Friedrich August von Gadow |
| 1886-1902 | Friedrich Franz August Emil von Gadow |
| 1902-(1929) | Friedrich August von Gadow |
| (1936-1938) | Fritz von Gadow |
| -1945 | Hans von Gadow |

---
Keywords: