Deutsche Website

---
Recommend us!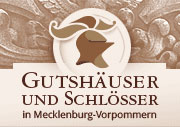 ---
Wiligrad Castle in calendar 2019
---
Wamckow Manor House
The house was a two-storey brick building erected around 1825. Until 1603 the estate was in the possession of the von Plessen family, and after 1791 in that of the von Bülows.
---

---

---
After 1945 the house was used by the state-owned farm and thereafter as accommodations.
In the years 1994 and 1995 this monument-protected manor house was demolished by it new owner. On the site of the house a completely new structure was built (see photo).

---
Keywords: