Deutsche Website

---
Ludorf manor in calendar 2019
---
Langensee manor house in calendar 2021
---
A manor house for a whole group!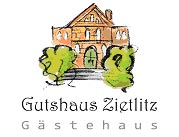 The guest house Zietlitz offers the suitable ambience for family celebrations, small seminars, groups of friends of historical manor houses; nature lovers, yoga groups and much more.
---
Manor Complex Lanckensburg
The manor house was erected during the 18th century. In 1822 and 1882 as well as around 1910 conversions took place. Since the 1960s the manor house has ceased to exist.
---

---

---
Of the estate complex the massive stable and granary building survived as has a smaller stable. Due to the fact that these have not been in use since 1990 deterioration is well advanced. During the 14th century the village was in possession of the von Platen family, the Normann family is in residence during the 16th century followed by the Bohlen family and finally before 1742 the von der Lancken family. They were the originators of the name change and gave their name to the estate, renaming the village of Zützitz into Lanckensburg in 1742. Marie von der Lancken was the last owner of the estate which covered 253 hectare in 1945; her administrator was Walther von Platen. The manor house was surrounded by an English landscape park which had been created towards the end of the 19th century. Nowadays this park can no longer be recognized.

---
Keywords: