Deutsche Website

---
Historical mills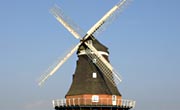 In some places these special technical monuments have been preserved. You can find many of them on the mill page.
---
Manor House (Castle) Kittendorf
The manor house was built between 1848 and 1853 in the English Tudor Gothic style according to plans by the Berlin architect Friedrich Hitzig.
---

---

---
Ordering party was Hans Friedrich von Oertzen. The von Oertzen family owned the Kittendorf estate from 1751 until 1945.
After 1945 the manor house accommodated an agricultural boarding college. From 1988 to 1990 and from 1993 up to 1995 the building was renovated and is now managed as a hotel. A wide range of the original interior fittings are in good condition and well restored, for instance the entrance hall, the dining hall, and the library with glassed bookcases.
Terraces and stairs lead from the southern side of the manor house into a spacious English country park which was reconditioned in 1988/89.
The estate complex, which was separated from the manor house by a wall of rubble masonry and decorative stones, no longer exists - unfortunately it was demolished in 1990.

---
Keywords: