Deutsche Website

---
Historical mills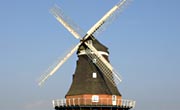 In some places these special technical monuments have been preserved. You can find many of them on the mill page.
---
Castle, Manor House or Farm House?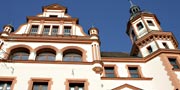 Information about the classification castle, manor house or farmhouse. Surely you must have asked yourself by which criteria we sorted the listing of manor houses and castles.
---
So that your dream does not become a nightmare
A real estate portal dedicated to castles and manor houses in Mecklenburg-Vorpommern and Brandenburg that supports you in every phase of your project's development.
---
Manor House Alt Schwerin
In the 14th century, Alt Schwerin had one estate that was surrounded by a moat. Around 1700, the property was owned by the von Wangelin family.
---

---

---
In 1733, the two-storey brick building was erected. There is a small landscape park with a lake on the south side of the manor house.
At the court entrance, stood many years a Neo-Baroque wrought-iron gate that was honored with a special prize at the world exhibition in 1893 and that originally belonged to the Vollratsruhe manor house and is now located there again.
The property was owned by the Schlutius family until 1945. After 1945, the manor house was used as a retirement home.
The manor house is integrated in the agricultural history museum that was founded in 1988. Here, you can relive and discover a typical Mecklenburg estate with the different types of buildings and machines from earlier times.
---
Structure of ownership prior to 1945:
| | |
| --- | --- |
| till 1786 | von Wangelin |
| 1786-1790 | von Flotow |
| 1790-1797 | von Levetzow |
| 1797-1801 | von Lüttichau |
| 1801-1803 | von Sierstorff |
| 1804-1840 | von Raven |
| 1841-1846 | E. Mierendorf |
| 1846-1869 | Greffrath family |
| 1869-1901 | Josua Klockmann |
| 1901- | Johann Schlutius (Karow) |
| 1939 | Claire and Haimo Schlutius |

---
Keywords: