Deutsche Website

---
Castle, Manor House or Farm House?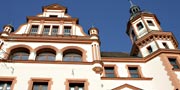 Information about the classification castle, manor house or farmhouse. Surely you must have asked yourself by which criteria we sorted the listing of manor houses and castles.
---
So that your dream does not become a nightmare
A real estate portal dedicated to castles and manor houses in Mecklenburg-Vorpommern and Brandenburg that supports you in every phase of your project's development.
---
Manor House Alt Jargenow
Alt Jargenow had been owned by the von Blixen family since at least 1545. The manor house was built in its present form on the foundations of the previous building which burnt down in 1830.
---

---

---
In 1926, Hans August Sodemann purchased the Alt Jargenow feudal estate; the family farmed the estate until they were expropriated and expelled in the course of the land reform. Their descendants bought the manor house and a remaining stable after 1990.
The manor house has been renovated; holiday flats are for rent in the house.

---
Keywords: