Deutsche Website

---
Castle, Manor House or Farm House?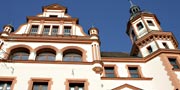 Information about the classification castle, manor house or farmhouse. Surely you must have asked yourself by which criteria we sorted the listing of manor houses and castles.
---
So that your dream does not become a nightmare
A real estate portal dedicated to castles and manor houses in Mecklenburg-Vorpommern and Brandenburg that supports you in every phase of your project's development.
---
Manor House Ahrensberg
The Ahrensberg manor house is a one-storey, 15-axle building with a flat central risalit over five axes. It has a crippled meadow roof with eight simple dormers.
---

---
The strict symmetry characterizes the house as a Classical building from the end of the 18th century or early 19th century. It was built by a member of the von Hahn family.
The property was owned by the von Hahn family between 1461 and 1856. In 1856, Ahrensberg was sold to the then Chief Huntsman von Voss. He was followed by Ferdinand Rasan in 1876. Two years later, Goerg, the ruling prince von Schaumburg-Lippe, took over possession of the property. From 1930 to 1945, the property belonged to Hugo Homman, who lived in Dissen (Teutian Forest). The estate was a Mecklenburg-Schwerin exclave until the unification of the two Mecklenburg regions in 1934.
After the Second World War, potatoes and sugar beet were cultivated on the agricultural land for the Red Army. Afterwards, Ahrensberg became a state-owned property. The manor house served as an apprentice residence for a long time.
In 1993, a Hanoverian industrialist purchased the property from the trust agency and had the manor renovated.

---
Keywords: