Deutsche Website

---
Historical mills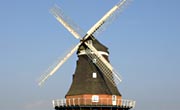 In some places these special technical monuments have been preserved. You can find many of them on the mill page.
---
Castle Klempenow in calendar 2022
---
Castle Landskron in calendar 2021
---
Castle Penzlin
Penzlin is not only known for its location in the attractive landscape south-west of Neubrandenburg but also above all for its old castle with a witches' dungeon.
---

---

---
Penzlin received its municipal status from Prince Nikolaus von Werle around 1220. This was confirmed in a document in 1263. There was already a castle at this time on a hill in the north of the area. The 500 year-long reign of the feudal von Maltzan dynasty at Penzlin Castle began in 1414 initially as pledgees, but in 1501 the knight Berend Maltzan auf Wolde purchased the town of Penzlin with all sovereign privileges from the Dukes Magnus and Balthasar. The castle was extended at the start of the 16th century. The witches' dungeon in the east wing dates from this time, the floor of which is ca. 7 m under the estate area. It has niches in the walls where the supposed witches were chained without contact to the earth; the fiefdom of the Devil. There is a knight's hall with a painted ceiling from the 19th century in the north gable. There is also a toilet in the north gable. The castle kitchen has also been preserved with its 12 m high chimney indicating its medieval history.
Georg Ferdinand Maltzan had a new manor house built between the walls of the Slavic castle by 1815. This had been converted into a meeting centre by 2008.
The museum in the old castle, after comprehensive reconstruction work from 1991 to 1997, is now an interesting and worthwhile excursion today.

---
Alte Burg Penzlin
17217 Penzlin, Alte Burg
Phone: 03962-210494
Fax: 03962-210135
Email: alte.burgSPAMFILTER@penzlin.de
Url: www.amt-penzliner-land.de
---
Keywords: