Deutsche Website

---
Historical mills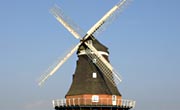 In some places these special technical monuments have been preserved. You can find many of them on the mill page.
---
Manor house Solzow in calendar 2022
---
Travelling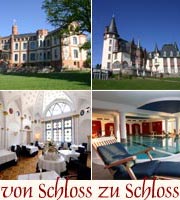 from castle to castle.
---
Manor House (Castle) Schwerinsburg
The place was first mentioned in 1251 as "Comerowe". After King Friedrich Wilhelm I had visited the then newly completed magnificent manor house, the place was renamed to Schwerinsburg, named after the von Schwerin, an old noble family of Pomerania.
---

---

---
The manor house was built between 1720 and 1733 by order of the Prussian General Lieutenant, Curd Christoph von Schwerin. The Baroque structure was the largest in Pomerania. The main building was adjoined to massive corner pavilions by elongated tracts. The side wings, with a chapel and a theater, flanked a commemorative courtyard. The interior was decorated with the finest of stucco work of Italian artists and paintings by Antoine of Pesne. The last owner before 1945 was Eberhard von Schwerin. In front of the main portal was the monument to the royal stable that had been built in 1790. The mansion was set on fire in May 1945 and burnt to the ground.
Only a wall from the west wing, where the magnificent castle chapel was located, was left.
The original Baroque park was transformed into a landscape park in the 19th century. Only a few fragments are left.

---
Keywords: