Deutsche Website

---
Historical mills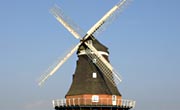 In some places these special technical monuments have been preserved. You can find many of them on the mill page.
---
Castle Kaarz in calendar 2022
---
Kölzow manor house in calendar 2021
---
Manor House Krenzow
The first identified owners of the feudal estate Krenzow, which is located in the triangle of Wolgast - Anklam -Züssow, were the Nienkerken family.
---

---

---
They sold the estate to the von Steding family of whom Amtshauptmann von Averdieck (administration superior) purchased the property in 1745. From this owner it went to Friedrich Ludwig Count von Bohlen who finally sold the estate to Hans von Quistorp on April 24th, 1819. It stayed in possession of the Quistorp family till 1945 as the ancestral seat which was eponymous for one of the five family branches. August von Quistorp had the old residence replaced by the current manor house in 1835. The building in neoclassical style showed a balcony at the entrance front, an open staircase lead to the entrance portal, four pilasters emphasized the entrance area. In 1945 the von Quistorp family were expropriated, the manor house was pillaged, the estate was parcelled out, and given to settlers (so called `new farmers´) who were later merged into a LPG (agricultural production cooperative).
During GDR times the manor house was stripped of all ornamentations. Nowadays the entrance front has been newly rendered however the former classicistic façade has not been rebuilt. The building still houses several families.
At the manor house there is a park with in parts extremely impressive woody plants, especially beautiful are the plane trees at the village pond. In the park there are the graves of the couple Wernher and Marie von Quistorp which are now again well looked after.

---
Keywords: