Deutsche Website

---
Historical mills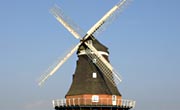 In some places these special technical monuments have been preserved. You can find many of them on the mill page.
---
Castle Kaarz in calendar 2022
---
Kölzow manor house in calendar 2021
---
Manor House (Castle) Kittendorf
The manor house was built between 1848 and 1853 in the English Tudor Gothic style according to plans by the Berlin architect Friedrich Hitzig. The Babelsberg Palace, designed by Schinkel in 1833 and built by Ludwig Persius from 1834, served as his model.
---

---

---
Ordering party was Hans Friedrich von Oertzen, Chamberlain to Frederick Francis II, Grand Duke of Mecklenburg. The von Oertzen family owned the Kittendorf estate from 1751 until 1945. Previous owners were the von Blücher family.
After 1945 the manor house accommodated an agricultural boarding college. From 1988 to 1990 and from 1993 up to 1995 extensive renovation work took place on the manor house.
It has been run as a hotel since 1995. Much of the original interior is still well preserved and carefully restored, for example the entrance hall, the dining room and the library with its glassed-in bookcases.
Terraces and stairs lead from the south side of the manor house into an extensive English landscape park. This was already reconditioned in 1988/89.
The estate complex, which was separated from the manor house by a wall of rubble masonry and decorative stones, no longer exists - unfortunately it was demolished in 1990.
---
The Kittendorf Appeal
The old manor house (around 1751) and the twelve estate buildings of the extensive Kittendorf estate, which were separated from the manor house by a boulder wall with decorative stones, have not been preserved. On August, 5th, 1999, the more than 300-year-old Kittendorf manor house, which had been intact until then, was demolished by an ABM team (Job creation scheme) financed by the federal and state governments. Before that, the entire estate, whose origins dated back to the 13th century, fell victim to the demolition mania.
This madness was ordered by the Treuhand Liegenschaftsgesellschaft (TLG), which, in the course of the "Landesverschönerungsprogramm" (Land Beautification Programme), a cynical successor to the "Schandflecken-Beräumungs-Programm" (Blot Eradication Programme) not only had the Kittendorf estate on its conscience. An unholy alliance of TLG, BVVG, employment companies, demolition firms, and real estate exploiters - with the support of the state government - pushed ahead with the work of destruction. (TLG = a fiduciary property services company originally part of the Treuhandanstalt. BVVG Bodenverwertungs- und -verwaltungs GmbH = AgriForest Privatisation Agency ) As a result of this series of destructions, after the "Tellow Declaration" in 1994 and the "Satow Appeal" in 1995, there was the public "Kittendorf Appeal".
This was addressed to the State Government of Mecklenburg-Vorpommern in order to finally put a stop to state-sponsored vandalism and the destruction of our cultural landscape.

---
Keywords: