Deutsche Website

---
Historical mills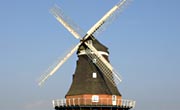 In some places these special technical monuments have been preserved. You can find many of them on the mill page.
---
Daschow manor in calendar 2019
---
Dersentin manor house in calendar 2021
---
"Haus Demmin" House
The Hanseatic city of Demmin lies directly at the confluence of the Peene and Tollense rivers. In 1228 there is already a documental mention of a Pomeranian princely castle here, the "Alte Burg" (old fortress).
---

---

---
Up to 1264 the Dukes of Pomerania-Demmin resided in the castle. As from the middle of the 13th century the castle "Haus Demmin" was extended to an early German fortress. In keeping with the times conversions and extensions also took place in the 16th century. In 1512 Duke Bogislav Xth bestowed Demmin House upon Peter von Podewils. After 1631 the castle burned down, the ruins of the mighty brick tower are still extant. In 1840, the von Podewils family had a two-storey late classicist rendered building erected with a three-and-a-half-storey central section. In 1881 Demmin House passed into ownership of the von Rohr family, who kept it until the expropriation in 1945.
From 1948 to 1986 the building was used as a boarding school by the Demmin grammar school.
In 1991 the von Rohr family was able to have Demmin House reconveyed into their possession; however they could stop the decay of the building neither.
In 1998 a fire destroyed the remains, in which the formerly grand building burned down to the foundation walls.
In 2016 the Demmin house was offered for sale.

---
Keywords: