Deutsche Website

---
---
Recommend us!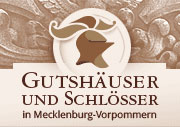 ---
Wrangelsburg manor house in calendar 2021
---
Wiligrad Castle in calendar 2019
---
Castle and Manor House Wredenhagen
An old castle complex from the Prince von Werle stands on a hill in Wredenhagen on the Brandenburg border.
---

---

---
There is a ring wall behind the castle moat, and the entrance to the site is through a gate. There is a stone keep inside next to the residential and farm buildings. The original residence stood next to the gate, and the deanery was later built on its foundations. There was an outer bailey in front of the gate which also contained the village church and further buildings. The "new Werle Castle" was first documented in 1284 as the residence of the Lords of Werle. The Brandenburg Margraves Waldemar and Johann conquered the castle in 1316. It however returned to the Lords of Werle in 1329. After pledging the land in Röbel to Duke Albrecht II von Mecklenburg in 1362, it came as a pledge to the Lords von Flotow in Stuer and then passed from hand to hand until it was the residence of Duke Karl I in 1571 and later Duke Ulrich. The castle no longer served as a princely residence after that and was tenanted. The defensive character of the castle was given up in 1612, and the site served as a demesne office and was tenanted. The farm, with barns and stalls, came about from 1712 to 1770. From 1775 to 1791 a new building complex with an office, tenant apartments and a church hall was built. The residential tower and the building complex were demolished in the 19th century. A new office which the forestry administration moved into and the manor house were then built. The manor house has been a school since 1927. The other buildings were and are inhabited or serve as administration or municipal buildings.

---
Keywords: