Deutsche Website

---
Manor house Rothen in calendar 2022
---
Travelling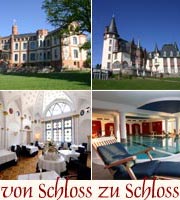 from castle to castle.
---
Manor House Rattelvitz in Volsvitz
Rattelvitz was first mentioned in a document in 1318. At that time the Kooth family (Kowt or Kothe) resided here. In the 16th century, the von der Osten auf Kapelle family acquired the place. In 1694 the village with the two farms belonged to Dubkevitz and around 1815 to Gurtitz, both of which were in possession of the von Platen family.
---

---

---
After 1829 the farm of the Rattelvitz outlying estate was moved to its present location.
In 1928 the feudal estate with Rattelvitz and Volsvitz had a size of 464 hectares; the owner was Constantin von Esbeck-Platen (von Esbeck-Platen before 1892).
The manor house has been renovated and holiday apartments have been created here.

---
Rattelvitz manor house / Rügen
18569 Gingst / Insel Rügen, Volsvitz 8
Contact: Christian Neuschild
Phone: 0049-38305-53318
Email: infoSPAMFILTER@ruegen-ruhe-rattelvitz.de
Url: www.ruegen-ruhe-rattelvitz.de
---
Keywords: