Deutsche Website

---
Manor house Rothen in calendar 2022
---
Travelling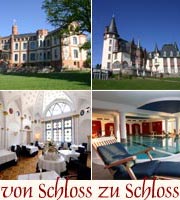 from castle to castle.
---
Manor House Rakow, municipal Am Salzhaff near Neubukow
The former farmers' villages, Rakow and Tessmannsdorf, were first documented in 1238 and 1249.
---

---

---
Both villages, together with Buschmühlen, were owned by the von der Lühe family for more than 300 years, until 1782 when they were acquired by a new owner, Baron von Sell. He had the one-storey manor house built. Next to it was a park as well as a fruit and vegetable garden. He later sold the property to the Hamburg merchant Johann Bernhard Paschen in 1791. Only five years later, Friedrich Johann Peter von Restorff Buschmühlen acquired Drüschow, Horst, and Rakow with Tessmannsdorf, which is considered to be his ancestral seat. Five of his six children were born in Rakow. In 1806, he sold Buschmühlen, Drüschow, and Horst, and acquired the purchased Rosenhagen and Radegast estates near Satow.
After he died in 1814, his widow Carolina Christiana von Restorff, born of Freiin of Stenglin from Hamburg (died in 1849), took over the management of the three estates until 1833, when her oldest son, Heinrich Rosenhagen, succeeded her, and, shortly afterwards, the second son, Adolf, who oversaw Radegast. Rakov had been inherited by the youngest son, Titus, who died before his mother.
In 1856, the Rakow manor house was restocked and furnished with Neo-Gothic elements. Above the entrance was the unicorn with the year of renovation and the prayer, "Lord grant this house your peace."
From 1864 to 1910, Rakow and Tessmannsdorf were owned by Titus' oldest son, Otto von Restorff. Otto's heir was his nephew, Eberhard von Restorff, who built numerous new buildings in Rakow between 1911 and 1913 and managed the estate until his death in 1938. He worked in close cooperation with inspector Karl Saß, who was his trainee. Karl remained in Rakow until May 2nd, 1945. In mid-1939, Eberhard's son, Dr. jur Krafft von Restorff, took over the family estate. Only six weeks later, on August 10th, 1939, he was drafted into the military. He died in Russia on December 8th, 1941. His oldest son was still too young to inherit the property and his widow, Dr. jur. Charlotte von Restorff, lived with her three children in Rakow until she had to flee on April 30th, 1945 shortly before Rakow was invaded by the Red Army.
The former estate is now a private property again. It is set to be expanded and transformed into a Best Western Hotel Resort with an adjacent residential park.
Script: Maria-Charlotte Weiß - v. Restorff
---
Structure of ownership pre 1945:
| | |
| --- | --- |
| (1781)-1784 | the creditors of chamberlain von der Lühe |
| 1784-1801 | the estates Tessmannsdorf, Rakow and Drüschow (doesn`t exist today) are property of the owner from Buschmühlen |
| 1784-1792 | captain Joahnn Carl Ludiwg Baron von Seld |
| 1792-1796 | Johann Bernhard Paschen |
| 1796-1801 | valet de chambre Friedrich Peter von Restorff |
| 1801-1804 | valet de chambre Johann Peter Friedrich von Restorff |
| 1804-1815 | valet de chambre Johann Friedrich Peter von Restorff (with Radegast, Steinhagen, Tessmannsdorf) |
| 1815-1823 | the heirs of valet de chambre Johann Friedrich Peter von Restorff |
| 1823-1844 | the brothers Heinrich Friedrich, Titus Ferdinand Carl and Adolf Cord von Restorff |
| 1844-1850 | the brothers Heinrich Friedrich and Titus Ferdiand Carl von Restorff and the sons from Adolf Cord von Restorff |
| 1850-1862 | the brothers Otto Carl Curt and F.D.C. von Restorff |
| 1862-1900 | Otto Carl Curt von Restorff |

---
Keywords: