Deutsche Website

---
Travelling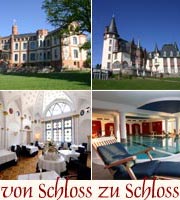 from castle to castle.
---
Castle Ralswiek in the calendar 2021
---
Roggow manor house in calendar 2021
---
Manor House Rosenhagen, Satow municipality
The Rosenhagen estate (Satow municipality) appeared in a document of the Satow Church in 1224 as one of four property villages.
---

---

---
In 1802, Danish Chamberlain Cord Peter von Restorff bought the estate. The manor house was built in 1836 based on plans of architect Carl Theodor Severin.
After 1945, the manor house served as a refugee shelter as well as a store, community center, municipal administration, and a multi-family house. The last occupant prevented its planned demolition in 1988, after refusing to move elsewhere and, thus, saving the building.
From 1994 onwards, the new owners renovated the monument with the help of the state, the associations for the preservation of monuments and the renovation of the village. It is a classic manor house that is considered one of the most important listed buildings.
The surrounding area has also been maintained and a large rose flower garden with herbs, lavender, and jasmine has been set up next to the house to form a perfect structure for a future landscape park.

---
Keywords: