Deutsche Website

---
Travelling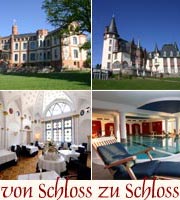 from castle to castle.
---
Manor House Raguth
Raguth, first documented in 1194, lies in the middle of the Schaalsee Biosphere Reserve, north of Wittenburg.
---

---

---
Raguth was owned by the von Pentz family from the 12th/13th century. They lived in the southwestern region of Mecklenburg between 1230 and 1945. In 1735, Sr. Captain Melchior Siegfried Rantzow bought the estate from Captain Berthold Joachim Pentz at Melkof. In 1795, the Council and Chamberlain of Brandenstein received the fief letter. In 1808, the estate was owned by Diedrich von Willinck. In 1849, Chamberlain Friedrich von der Mülbe sold the property to Count Rudolf von Bassewitz to Perlin. On April 13th 1878, Raguth was acquired by the Count of Bernstorff-Gyldensteen. The estate remained in the Bernstorff-Gyldensteen family until the expropriation in 1945. The manor house is a three-wing complex that has been rebuilt several times over the years. It is said to have been restored in 1923.
After 1945, the farmhouse was used as a school, then as a children's playground.
It remained empty starting in 1991 and was gradually going to ruin. The building, which was in a very dire and ruinous state, found a new owner in 2005, who has placed significant efforts in renovating and restoring the listed manor house.

---
Keywords: