Deutsche Website

---
Travelling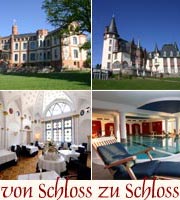 from castle to castle.
---
Castle Ralswiek in the calendar 2021
---
Roggow manor house in calendar 2021
---
Manor House Raguth
Raguth, first documented in 1194, lies in the middle of the Schaalsee Lake Biosphere Reserve, north of Wittenburg.
---

---

---
Raguth was in possession of the von Pentz family since the 12th/13th century who resided in the south-western region of Mecklenburg between 1230 and 1945. In 1735, Supreme Administrator Melchior Siegfried Rantzow purchased the estate from Captain Berthold Joachim Pentz at Melkof. Melkof, in 1795 Regierungsrat (senior civil servant) and Chamberlain of Brandenstein received the letter of feoffment. In 1808 Diedrich von Willinck became the owner of the estate and in 1849 Chamberlain Friedrich von der Mülbe sold the estate to Count Rudolf von Bassewitz of Perlin. On April 13th, 1878 Count von Bernstorff-Gyldensteen purchased Raguth. The estate remained in the Bernstorff-Gyldensteen family until the expropriation in 1945.
The manor house is a three-winged complex that has been rebuilt several times over the years, a restoration is dated 1923.
After 1945 the manor house was used as a school, then as a kindergarten, since 1991 it stood empty and decayed.
The building, which is in very desolate condition, has undergone several changes of ownership since it was sold by the BVVG. (BVVG = a state fiduciary property services company originally part of the Treuhandanstalt.) The current owner from Hamburg is also offering the manor house for sale. (Status: August 2020)

---
Keywords: