Deutsche Website

---
Ludorf manor in calendar 2019
---
Langensee manor house in calendar 2021
---
A manor house for a whole group!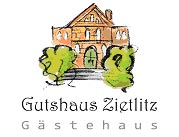 The guest house Zietlitz offers the suitable ambience for family celebrations, small seminars, groups of friends of historical manor houses; nature lovers, yoga groups and much more.
---
Estate Lüdershagen near Güstrow
Lüdershagen was first mentioned in records in 1288. At the beginning of the 13th century Heinrich de Colne is named at Lüdershagen. In the church on the northern quire aisle stands a grave stone with a relief figure of Hans von Cölln auf Groß Grabow who died on March, 17th 1580. Below the knight it shows the coat of arms of the House von Cölln.
---

---
The noble house von Kölln (Cölln) became extinct in 1660. Friedrich von Blücher took over the estate from privy councillor Karl Christoph Count von Bassewitzz in 1836.
On the south side of the cemetery near the quire there is a tomb slap of the Royal Danish Chamberlain Henning Friedrich Count von Bassewitz who was born on June, 21st, 1754 in Paris and died in Lüdershagen on the 24th, December 1829.
In the 1930s the estate was opened to settlements.
The village church of Lüdershagen is a boulder building from the first half of the 13th century.
---
Structure of ownership pre 1945:
| | |
| --- | --- |
| in the 13th century | Heinrich de Colne, von Cölln, Kölln family |
| 1753-1798 | |
| 1798-1835 | H. C. A. von Bassewitz |
| 1836-1859 | von Blücher family |
| 1859-1904 | Otto Wilhelm Mohrmann |
| 1904-1908 | lieutenant a. D. Hans Schmidt |
| 1908-1909 | F. Richter |
| 1909-1913 | Ernst Walkhoff |
| 1913-1917 | Gustav Cramer |
| 1921 | Julius Hüniken, 463 hectar |
| 1927/30 | Leon von Müller |
| 1937/38 | Head Bailiff Paul Meyer |
| 1938 | Mecklenburgische Siedlungsgesellschaft (a company who divided land into property parcels then sold these as settlements) |

---
Keywords: