Deutsche Website

---
Weddings & celebrations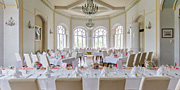 in the stylish ambience of Gamehl Castle - the faithfully restored ballroom offers room for 80 people.
---
Manor houses and castles for sale
This is certainly no usual real estate website, as it refers almost only to castles, manor houses and manor estates of north - eastern Europe.
---

---
Our wide ranging offer varies from vanished small manor houses to greatly renovated country castles. Become part of history and convert historic buildings in projects with future! The possibilities are certainly as diverse as your personal imagination. Make your dreams come true - with our help. As we are not just brokers, but support you in your project in any stage, if you wish us to.

---
Contact:
Contact: Manfred Achtenhagen
Phone: 039931/84011 oder 0172/9569607
Email: infoSPAMFILTER@gutsdorf.de
Url: www.gutsdorf.de