Deutsche Website

---
Historical mills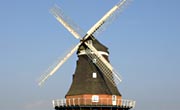 In some places these special technical monuments have been preserved. You can find many of them on the mill page.
---
So that your dream does not become a nightmare
A real estate portal dedicated to castles and manor houses in Mecklenburg-Vorpommern and Brandenburg that supports you in every phase of your project's development.
---
Bassendorf manor house in calendar 2021
---
Manor House Brahlstorf
Brahlstorf was an old possession of the von Pentz family, who lived here until the property was pledged to the von Bülow family in 1707.
---

---

---
In the mid-18th century, Heinrich von Clausenheim took over possession after Hermann Leopold von Plessen in 1839 and Count Friedrich Georg von Oeynhausen one year later.
He is the one who had the new manor house built around 1850, which still exists today. In 1899, the ducal association purchased the property, which remained a demesne from then on.
The manor house was built in 1848. It is now a private property again and renovation work has been underway for the last couple of years.
---
Structure of ownership pre 1945:
1438

von Pentz familiy

1707

impawned to Hans Heinrich von Bülow

1732-1839

von Clausenheim

1839-1840

Leopold von Plessen

1875-1899

counts von Oeynhausen

1899

Grand-ducal demesne chamber
lessee: Heinrich Behrens

1903

lessee Johannes Baack

1928-1945

lessee Fritz Seeger

---
Keywords: