Deutsche Website

---
Recommend us!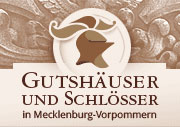 ---
Wiligrad Castle in calendar 2019
---
Manor house Wietzow
Wietzow is first mentioned in a land grant of 1496, in which Duke Bogislaw X enfeoffs the brothers Henning, Claus, and Henneke Perselyne with Vietzow.
---

---

---
After the extinction of this family the Blücher family took up the fief. In 1738 Christian Ludwig von Blücher left Wietzow to the three von Linden brothers; after 1776 the estate came to the von Heyden-Linden family and in 1838 Ludwig von Neetzow of Kagenow acquired it. In 1865 Maria von Neetzow inherited Wietzow; she married Count Adolf Blücher. After the von Blücher family Richard Wolf assumed ownership. He sold the estate in 1929 to Rittmeister (Cavalry Captain) Fritz von Schoeler, who in turn sold it to Wolf-Eginhard von Kruse-Neetzow in 1935. After the expropriation in 1945 the estate lands were parceled out to small farmers. In the manor house were apartments, the collective farm kitchen, and a cooperative store.
After 1990 the house came first into the possession of an organization and then to the current owners, who rehabbed the building.
The manor house, at its core a Baroque building, was rebuilt in Neo-Gothic style around the middle of the nineteenth century. The spacious park, laid out around 1750, extends along the slope of the Tollense Valley with a view over the Tollense meadows and includes a pond as well as a noteworthy stand of timber of dendrological significance.
In the manor house stylishly appointed holiday accommodations can be rented.
Further information: www.gutshaus-wietzow.de

---
Gutshaus Wietzow
17129 Wietzow,
Contact: Jörg Kröger
Phone: 039991-369817
Fax: 039991-36724
Email: infoSPAMFILTER@gutshaus-wietzow.de
Url: www.gutshaus-wietzow.de
---
Keywords: