Deutsche Website

---
Recommend us!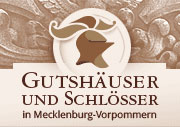 ---
Wiligrad Castle in calendar 2019
---
Manor House Welzin
The name of the village derives from the family name von Weltzien, this family originated from the county of Schwerin and owned considerable land in this area. At the beginning of the 15th century they took up residence in Weisin coming from Weltzien near Anklam.
---

---

---
In 1672 Daniel von Koppelow acquired the shares of the deceased Cord von Passow. In 1686 Cord Schlottmann and his eldest son Niclas Welzin took over the estate. He married Christina Hedwig von Barner around 1699 and received the noble title Schlottmann von Freyburg in 1703. In 1755 Nicolaus Christoffer von Weltzien auf Grabow bought back the Welzin estate from Hartwig Cord Valentin Schlottmann von Freyburg and kept it until 1796. In that year Pilipp von Behr-Negendank took over the estate, which remained in the possession of the family until the property was opened to settlements around 1930.

---
Keywords: