Deutsche Website

---
Historical mills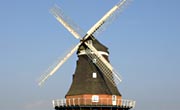 In some places these special technical monuments have been preserved. You can find many of them on the mill page.
---
---
Wiligrad Castle in calendar 2019
---
Manor House Walkendorf
Walkendorf was first mentioned in a document in 1216. Until the secularization, Walkendorf was a monastery estate of the Dargun monastery.
---

---

---
The manor house is privately owned. Behind the manor house there is a well-kept landscape garden.
---
Structure of ownership prior to 1945:
1374-1831

The Counts von Moltke

In 1776 Emperor Joseph II raised Detlof Friedrich von Moltke to the rank of Count of the Empire's state.

(1775)-1782

Eberhard Friedrich Ehrenreich Count von Moltke

1782-1784

The heirs of Eberhard Friedrich Ehrenreich Count von Moltke

1784-1826

Chief Master of Hunting Friedrich Detlof Graf von Moltke

1826-1831

The heirs of the family of Count Friedrich Detlof von Moltke

1831-1843

Friedrich August Peters

1843-1859

Hereditary Land Chamberlain Helmut von Heyden-Linden

1859-1876

Henning Friedrich Carl Graf von Bassewitz District administrator, from 1869 on Minister of State.

1921

Georg Henning Graf von Bassewitz-Behr

1930/38

Fritz Möller, Warnkenhagen
Fotos und redaktionelle Unterstützung: Axel Stelter

---
Keywords: