Deutsche Website

---
Historical mills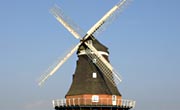 In some places these special technical monuments have been preserved. You can find many of them on the mill page.
---
Turow Castle in calendar 2019
---
Estate Tarnow
The Tarnow estate was under the ownership of the Dargatz family in the 13th century. The estate went to the v. Maltzan family after the Dargatz family died out.
---

---

---
Daniel Gebben received the estate in 1625 as a pledge. It came into the ownership of Valentin Christoph von Barner in 1672 and later went to the von Maltzan family until 1779, followed by the von Zülow family. Further frequent changes of ownership followed: von Maltzan, Georg Haberland, Karl Neumann, Friedrich Wilhelm Burchard, Karl August von Meyenn, Karl Schüder and Gustav Adolf Bock as well as Gustav Franz von Wendenburg starting in 1896.
The Tarnow estate no longer exists.
A storehouse and the park are listed.

---
Keywords: