Deutsche Website

---
Historical mills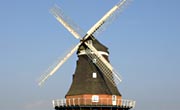 In some places these special technical monuments have been preserved. You can find many of them on the mill page.
---
So that your dream does not become a nightmare
A real estate portal dedicated to castles and manor houses in Mecklenburg-Vorpommern and Brandenburg that supports you in every phase of your project's development.
---
Bassendorf manor house in calendar 2021
---
Manor House (Castle) Basedow
Directly located at the lake Malchiner See the architectural ensemble castle Basedow can be found. It may be unique in Mecklenburg-Vorpommern with its manor house, the extensive landscape park, the estate buildings and the village forming a harmonic unit.
---

---

---
Already in the 13th century the von Hahn family was resident in Basedow. They had built a castle here in 1467. This knight's castle was altered into a representative renaissance style manor house in the 16th century. Starting 1839 the von Hahns authorized Friedrich August Stüler to restyle the manor house, the village and the estate buildings. Between 1835 and 1852 Peter Joseph Lenné created the landscape park. In close collaboration with Stüler an ideal landscape was created, where buildings, walks and streams, megalithic tombs and the ruins of a castle perfectly fit in. After 1891 the manor house's south wing burned down, the architect Albrecht Haupt rebuilt the building in the neo renaissance sty le. 1945 some parts of the building were destroyed. Advertised since 1994, in September 2000 the manor house was sold to a Westphalian business man, Heinz-Jürgen Beuter. One of the competitors in the sale was one of the von Hahn descendants, Eckhard Graf Hahn. Count Hahns application was rejected by the TLG. In spring 2004 Basedow was auctioned again and is privately used since then.
Anette Gräfin and Eckhard Graf Hahn von Burgsdorff are farming in a neighboured village and founded an association for the keeping of the castle grounds Basedow.
---
Besitzverhältnisse vor 1945:
seit 1337

land-marshal Friedrich von Hahn in Basedow

(1781)-1805

land-marshal Friedrich von Hahn

1805-1859

Friedrich count von Hahn (Heir of the land-marshal Friedrich von Hahn)

1853 - with estates: Gessin, Langwitz, Schwinkendorf, Faulenrost, Liepen, Demzin, Hungersdorf, Lansen, Rittermannshagen, Hinrichshagen, Ulrichshusen

1859-1885

Hereditary Land-marshal (marshal of patrimonial land) Cuno Friedrich Wilhelm Werner Henning count von Hahn

1885-1916

Hereditary Land-marshal (marshal of patrimonial land) Friedrich Franz count von Hahn

1916-(1938)

Walter count von Hahn

-1945

count von Hahn

---
Keywords: