Deutsche Website

---
Ludorf manor in calendar 2019
---
A manor house for a whole group!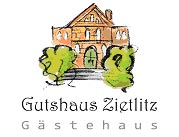 The guest house Zietlitz offers the suitable ambience for family celebrations, small seminars, groups of friends of historical manor houses; nature lovers, yoga groups and much more.
---
Manor House Levetzow
Levetzow, also spelled Levezow, is the name of an ancient Mecklenburg noble lineage. They gave their name to the village which was first mentioned in records in 1262.
---

---

---
However during the following centuries the estate changed hands. In the mid 19th century the fiefdom was in possession of Friedrich Dieter Bade, from 1875 until 1928 the owners were the Seeler family, followed by the Ohlischläger family. The manor house is situated on the edge of a husbandry yard, it received its current form with gothic revival style architectural quotations by means of modification in the mid 19th century.
Inside the stairwell with gallery from the construction time is extant. Several families do live in the listed building.
A small park behind the manor house has been divided into rampant units and is ill-kempt. Of the manor complex two estate buildings remain which have been converted into residential dwellings.

---
Keywords: