Deutsche Website

---
Holiday in Klein Kubbelkow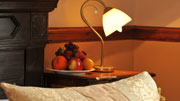 On the island of Rügen, in dreamlike peace, not far from the Baltic Sea, you reside in spacious rooms and suites.
---
Castle Kaarz in calendar 2022
---
Kölzow manor house in calendar 2021
---
Manor House Klein Kubbelkow
From the 14th century right up to 1945 the von Barnekow auf Kubbelkow family resided on this estate. They had the manor house built in 1908.
---

---

---
Von Barnekow was at that time Administrative District Officer in Stettin and used the manor house mainly as a summer retreat. The cottage style manor house is surrounded by the manor park which was established around 1700 and is spacious with a dimension of approx. four hectare. It combines baroque items with the English landscape park which was extended in 1860. There are some dendrological treasures to be found in the park such as Ledereiche (leather oak), Kuchenbaum (Katsura), and copper beech trees. The manor house and the park are listed as being under national heritage protection.
Post 1945 the manor house was used for residential purposes and in the 1980ties it became a pub and boarding house. After the use as such the house stood empty for several years. The new owners have now very gently restored the building according to old plans and indications of national heritage experts, they endeavoured to establish its original state of 1910. Valuable wainscoting, parqueted floors, and the impressive stairwell radiate in a new brilliance whereby the charm of the diverse history of hundreds of years was consciously not retouched. Fittings and fitments lost over the years have been replaced by original antiques, as have historical tiled stoves and fireplaces.
Kinga and Axel Diembeck opened the Restaurant in the manor house Kubbelkow on October 17th, 2003 after nearly a whole year of restoration work. The historically valuable manor park offers its old structures and visual axes after severe thinning and clearing. Furthermore a baroque pleasure- and kitchen garden has been created, planted with culinary and wild herbs.

---
Gutshaus Kubbelkow
18528 Klein Kubbelkow, Im Dorfe 8
Contact: Familie Diembeck
Phone: 03838-8227777
Fax: 03838-8227710
Email: infoSPAMFILTER@kubbelkow.de
Url: www.kubbelkow.de
---
Keywords: