Deutsche Website

---
A manor house for a whole group!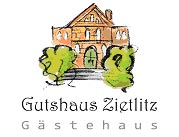 The guest house Zietlitz offers the suitable ambience for family celebrations, small seminars, groups of friends of historical manor houses; nature lovers, yoga groups and much more.
---
Manor House Jessin
Nowadays Jessin is a suburb to the town of Grimmen which is located at a few kilometres distance. From at least 1905 the 465 hectare estate was in the possession of Hans Peters.
---

---

---
In the mid-nineteen-twenties the grange went to his heirs.
The manor house, which was erected around 1916 in its present-day style, has been in use as a nursing home by different operators since 1945. Besides other details from the time of construction wooden panelling in the two-storey entrance hall, the wooden staircase and a gallery, a sandstone fireplace and ornamental glass paintings impress inside the two-storey rendered building.
In 1996 the manor house was renovated and repaired.Nowadays the company Bodden-Kliniken Ribnitz-Damgarten GmbH operates the nursing home "Haus Sonnenschein" here.
The former manor house lies amidst a well looked after park. The estate buildings are for the most part preserved and in use.

---
Keywords: