Deutsche Website

---
Castle, Manor House or Farm House?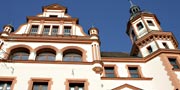 Information about the classification castle, manor house or farmhouse. Surely you must have asked yourself by which criteria we sorted the listing of manor houses and castles.
---
So that your dream does not become a nightmare
A real estate portal dedicated to castles and manor houses in Mecklenburg-Vorpommern and Brandenburg that supports you in every phase of your project's development.
---
Farm House Ave
Ave is situated at the edge of the Mueritz national park west of Penzlin. Here there are two farm houses from different eras built next to each other.
---

---

---
In the night to 13.05.2019 the manor house Ave burned out completely.
The older farm house is placed above a vaulted cellar, at its back there are two bird sculptures placed in two niches. In the new farm house, where a hall spans the complete width of the house, there are a fireplace, the stairs, the parquet floor and the beamed ceiling preserved from the building period. 1501 Berend Moltzan received the property as fiefdom. Following the Thirty-Years War the village was abandoned. 1702 two farms existed in Ave, one owned by the von Manteuffel family, the other by the von Holstein family. 1751 Bernhard Richter bought both farms, 1790 the von Müller family and 1829 the Rose family. Since 1865 they were lived-in by the Lemcke family, last owner until the expropriation was Kurt Beiling. After 1945 the house was mainly used for residential purposes. Today it is owned by the Diakoniwerk Serrahn and is a place for assisted living. Some outbuildings of the original estate still exist and are in use.

---
Keywords: