Deutsche Website

---
Castle, Manor House or Farm House?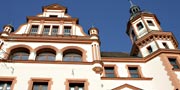 Information about the classification castle, manor house or farmhouse. Surely you must have asked yourself by which criteria we sorted the listing of manor houses and castles.
---
So that your dream does not become a nightmare
A real estate portal dedicated to castles and manor houses in Mecklenburg-Vorpommern and Brandenburg that supports you in every phase of your project's development.
---
Farmhouse Ankershagen
Ankershagen, located at the northeastern border of the Müritz national park, was a fiefdom of the von Holstein family since 1435.
---

---

---
At this time, a castle stood there, probably destroyed during the Thirty Years War. Some parts are preserved and may be visited. To the west of the castle a Renaissance-style manor house was built between 1550 and 1570. It is constructed as a square, in the angle of both wings the stair tower rises. At a later time the house was renovated and enlarged. In the 17th century the von Holstein family had to give Ankershagen to mortgage and in the following the owners changed frequently. 1743 the von Oertzen family bought the estate, 1831 Mr Strecker, 1854 Ludwig Voss, 1875 Ernst Winkelmann, 1889 Graf von Bernstorff, 1897 Oskar Wulff and 1928 Paul Klotz. From 1769 to 1771 the writer and later Homer translator Johann Heinrich Voß worked there as tutor. After 1945 until 1977 the manor house was used as a school house. Since then it is unused.

In Ankershagen the archaeologist Heinrich Schliemann spent his early childhood from 1823 to 1831. Nowadays the Heinrich-Schliemann museum is located in the manse. Here the visitor learns things worth knowing about the life and work of this scholar. Also original findings from Troy are displayed.

The town church, sanctified in 1266, is one of the oldest rural churchly buildings in Mecklenburg.
Weitere Informationen: www.schliemann-museum.de

---
Keywords: