Deutsche Website

---
Castle Kaarz in calendar 2022
---
Kölzow manor house in calendar 2021
---
Manor House Ketelshagen
First mentioned in records in 1451 the estate of Ketelshagen was established during the 14th century by the von Ketel family.
---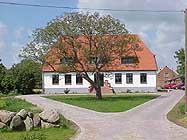 ---

---
With few interruptions the place remained in possession of this family until 1789 when it was purchased by the von Putbus family. In 1695 Henning Tabel inhabited the estate. He held the estate as a pawn for a short time because the member of the von Ketel family who at that time resided there was unable to manage the farm due to the fact that he had returned wounded from his regiment, the Schleswig-Holstein Gotterfischen. A few years later he died. The manor house was built during the 19th century and later altered. The place of Ketelshagen was marked by merely one house, probably a farm cottage. In 1994 the building was purchased from the town of Putbus by Ruth Meyer and Johanna Knecht. During the following years the manor house, which is a listed building, was restored and redeveloped.
It is now used for residential purposes, as a seminar centre and it offers holiday accommodation.

---
Keywords: