Deutsche Website

---
A manor house for a whole group!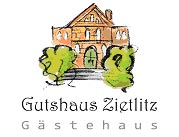 The guest house Zietlitz offers the suitable ambience for family celebrations, small seminars, groups of friends of historical manor houses; nature lovers, yoga groups and much more.
---
Estate Falkenhagen
The Falkenhagen manor house belonged to the estate which had the administrator's house at its centre.
---

---

---
It is at the other end of the village, near Greifswalder Bodden. The barns, the stables and the smithy are near the administrator's house on the extensive area. This is where the working life of the estate took place. It is estimated that the buildings were built from ca. 1830 to 1860. As there isn't reliable information about the building time available, the age of the building is dated by the basics of its building style, the format of the stone, the masonry bond and the typical window shapes of the building period. The building is, due to its age and design, a listed property with the number 300 according to the Mecklenburg-West Pomerania Preservation Order Law. The Falkenhagen estate, including the administrator's house, was used as an incomers' home after World War II. The lands and the Falkenhagen estate were converted into an agricultural production cooperative from 1952, and the administrator's house was used as an administrative building, student halls of residence and finally as a residential building.
The last tenant moved out in 1992, and the house was left to dereliction and vandalism. All of the barns and adjoining buildings were demolished due to danger of collapse in 1997. The remains of the estate including the administrator's house were sold to the present owner, the Grandmann-Heckel family, by the fiduciary in 1999. They had extensively restored the beautiful building by 2010 and now you can spend a carefree holiday in this peaceful, idyllic location.

---
Keywords: