Deutsche Website

---
A manor house for a whole group!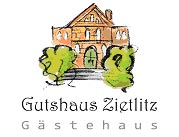 The guest house Zietlitz offers the suitable ambience for family celebrations, small seminars, groups of friends of historical manor houses; nature lovers, yoga groups and much more.
---
Zinow Manor House and Chief Forest Ranger's Lodge
Zinow is a village in the community of Carpin. In the fourteenth century the area belonged to the Fürstenberg counts. In 1505 the village consisted of a bailiff's farm and five smallholdings.
---

---
In 1627 the estate came into the possession of the duchess of Mecklenburg-Strelitz. It remained a royal domain until it was subdivided into smallholdings in the 1920s. The last lessee was Ernst Cordua in 1915. The rest of the manor house grounds became a forestry lodge and the headquarters of the chief forest ranger.
The manor house was constructed after the demolition of a half-timbered house sometime after 1870. It is a brick building with a high cellar resting upon a fieldstone plinth. The façade shows a band of yellow brick and the center entrance is reached by a flight of stairs.

---
Keywords: