Deutsche Website

---
Recommend us!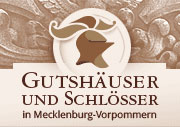 ---
Wrangelsburg manor house in calendar 2021
---
Wiligrad Castle in calendar 2019
---
Wendfeld Manor House
The state almanac first mentions the name Wendfeld as a place in 1814. Until then only Wendfeld Mill appeared as a property of the lords of Wohrenstorf.
---

---

---
The estate complex must have been laid out in 1814. In that year Wendfeld was listed as belonging to the parish of Sanitz. The estate consisted of the lands of the former Wendfeld Mill, which must have been out of commission for decades, a larger pocket of the Reppelin estate, and a smaller stretch of Teutendorf. The first owner of the Wendfeld estate was Treasurer Ferdinand von Flotow.
---
Owners before 1945:
1817

Wendsfeld is first mentioned in the state almanac.

1816-1826

Treasurer Ferdinand von Flotow

1826-1829

Privy Treasurer Friedrich Ludwig von Flotow

1829-1847

Cavalry Captain Johann Adam Wilhelm von Flotow (see Teutendorf)

1847-1849

Heirs of Cavalry Captain Johann Adam Wilhelm von Flotow

1849-1852

von Flotow brothers

After the death of Cavalry Captain Johann Adam Wilhelm von Flotow in 1847 the property Teutendorf/Wendfeld was divided up. Johann Eduard Friedrich Ferdinand von Flotow was sole heir to Teutendorf, while Wendfeld remained the common property of the von Flotow brothers. The common ownership of Wendfeld lasted only a few years. In 1852 the estate was reunited with Teutendorf. The sole owner of both estates was Johann Eduard Friedrich Ferdinand von Flotow.

1852-1857

Johann Eduard Friedrich Ferdinand von Flotow (See Teutendorf)

1857-1876

Julius Rewoldt

1876-1883

Oscar Michanelles

1883-1908

Cavalry Captain (Militia) Heinrich Bernhard

1908-?

Rolf Krause

---
Keywords: