Deutsche Website

---
Recommend us!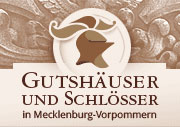 ---
Wiligrad Castle in calendar 2019
---
Midsummer Remise
22. & 23.06.2019
The weekend of Nordic castles and manor houses.
Move with us from estate to estate.
---
Waldsee Hunting Lodge
In 1899 the future Grand Duke Adolph Friedrich V of Mecklenburg-Strelitz began building a hunting lodge. In 1900 the lodge was completed with a half-timbered servants' wing.
---

---

---
The lodge itself is a square one-storey wooden structure. The grand duke died in Berlin in 1914. His son was not interested in the lodge, so in 1919 his brother-in-law, Prince Julius Ernst of Lippe, took possession. In 1933 the lodge was used by the local Nazi party administrator Friedrich Hildebrandt. After the war, refugees were accommodated on the upper floor. In the lower rooms courses in de-Nazification were conducted. After 1952 the state forestry concern in Neustrelitz used the building as accommodation for apprentices. Thereafter the Ministry for State Security made the lodge a rest home. After German reunification there were plans to set up a facility in Waldsee for alcoholic mothers and their children. Then the building was supposed to become a seniors' home. In 2001 the Hotel Zum Schulzensee, which belonged to two Berliners, occupied the lodge. The following year the hotel was auctioned off in Berlin and was acquired by the owner of an engineering firm. He now markets the lodge as a "hunters' hotel."

---
Keywords: