Deutsche Website

---
Manor house Rothen in calendar 2022
---
Travelling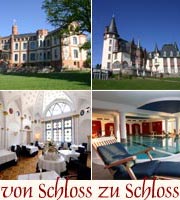 from castle to castle.
---
Manor House Rothenmoor
Rothenmoor is in a scenic location at the southern end of Lake Malchir. The lands in this region were already in the possession of the von Maltzan family before 1372.
---

---

---
The Rothenmoor estate was then acquired by the von Tiele-Winkler family in 1877, who remained owners until the expropriation. The manor house, which is currently in a desolate state, consists of three buildings. The main building was built at the end of the 17th century on the foundations of older walls. The extensions were added in the mid-19th and beginning of the 20th centuries.
After 1945, the manor house served as a refugee shelter, and later a sales point and a nursery. The last tenants moved out in 1990. It has since gone to ruin.
Behind the manor house is an extensive park that had been created around 1895 with ponds, an artificial watercourse, and bridges.
The graves of the von Tiele-Winkler family are still in the park. There is an old blacksmith's shop right next to the road.

---
Keywords: