Deutsche Website

---
Manor house Rothen in calendar 2022
---
Travelling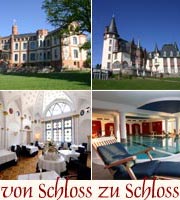 from castle to castle.
---
Manor House Rodenwalde
The Rodenwalde estate, about 15 km west of Hagenow, resulted from "Neufeld", a farmstead that had existed since 1670.
---

---

---
The farmstead was replaced with a new farm, "Neuhof", at the end of the 18th century. Since the farm was created by clearing woodland (roden) Neuhof was renamed Rodenwalde.
The manor house, a stately half-timbered building with an L-shaped floor plan that rests on a fieldstone foundation, was probably built around 1715. The side wing was expanded when the one-storey main house was reconstructed later.
In 1930, the estate was acquired by Dr. Hans Merensky, who purchased Rodenwalde from Henning von Bülow from Goldenbow. His father Jasper von Bülow received the estate in 1852 through his marriage to Elisabeth von Schilden.. In 1935, Dr. Merensky commissioned Werner Cords, a Parchim architect, to redesign the estate with stables, barns, and storage. This farm complex still shapes the appearance of Rodenwalde today.
After the expropriation and settlement of the estate during the land reform, an LPG (agricultural production cooperative) was formed in Rodenwalde, which used the buildings for many years. Nowadays the manor house is still inhabited.
One of the granaries is privately owned and is being lovingly and elaborately restored.
---
Structure of ownership prior to 1945:

---
Keywords: