Deutsche Website

---
Travelling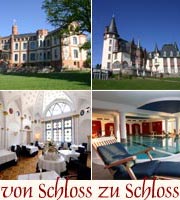 from castle to castle.
---
Manor House Repnitz
The Repnitz manor house is a two-storey rendered brick building which was built in 1840. The estate was under the ownership of the von Bassewitz family.
---

---
Apartments for army widows were created in the manor house after 1945 and was later used for administration.
It is under private ownership today and is used for residential purposes.
---
Structure of ownership prior to 1945:
| | |
| --- | --- |
| ago 1460-1782 | |
| -1782 | district administrator Joachim Ludolf von Bassewitz |
| 1782-1787 | professional huntsman David Splittgerber (see Lühburg) |
| 1787-1790 | Friedrich Graf von Schlieben (see Lühburg, Basse) |
| 1790-1792 | senior administrative official Adolf Friedrich von Raven |
| 1792-1802 | Christian Balthasar Fischer |
| 1802-1806 | professional huntsman Diedrich Joachim von Plessen |
| 1806-1813 | Dr. J. C. Brandenburg for the creditors of the von Plessen family |
| 1813-1826 | Louise von Plessen nee von Pestel (bailiff Helmut von Plessen, see Drüsewitz) |
| 1826-1842 | the heirs of Louise von Plessen nee von Pestel (bailiff Helmut von Plessen) |
| 1842-1859 | Hermann von Oertzen |
| 1859-1874 | Brothers von Oertzen |
| 1874-1901 | Sigismund von Oertzen |
| 1901-1945 | Gerd Graf von Bassewitz (see Lühburg) |
| | |

---
Keywords: