Deutsche Website

---
Recommend us!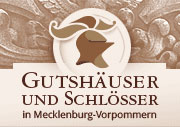 ---
Manor House (Castle) Prebberede
Prebberede is east of Laage. The estate has been under the ownership of the Familie von Bassewitz from 1395 up until its expropriation in 1945.
---

---

---
Count Carl Friedrich von Bassewitz had the imposing manor house built from 1772 to 1778 by the Güstrow builder Sidon. Both stables which are now used as apartments were also built at this time. The manor house which has been listed since 1951 was used by the municipality for residential purposes after 1945 and was restored in 1959/60 and 1984. The Leyh family purchased the manor house with its adjoining buildings and park after 1990 and carried out comprehensive renovation work. The interior which now houses holiday apartments is worth seeing: The entrance hall with its remarkable marble floor, the beautiful balustrades of the asymmetrical staircase and the upstairs ballroom with its many stucco ornaments in rococo style. Concerts are regularly held here.
The manor house is surrounded by a well-cared for park which was laid out on a 9 ha. area around 1800. The small neo-Gothic chapel in the park was built in 1861/62 and is decorated with the Bassewitz coat of arms.

---
Keywords: