Deutsche Website

---
Ludorf manor in calendar 2019
---
Langensee manor house in calendar 2021
---
A manor house for a whole group!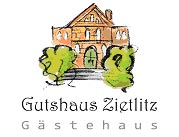 The guest house Zietlitz offers the suitable ambience for family celebrations, small seminars, groups of friends of historical manor houses; nature lovers, yoga groups and much more.
---
Manor House Luckwitz
The manor house was first built during the mid 18th century. As the old house had to a large extent fallen into disrepair a new one was erected at the beginning of the 20th century.
---

---

---
The von Lützow family owned the estate. In 1725 the von Bernstorff family acquired it. After WWI the estate was opened to settlements for the most part, a remainder of the farm went to the Perlbach family as tenants. Up to 1945 Lisette Countess of Bernstorff was the owner of Luckwitz. After the expropriation the manor house became a home for children with special needs. During the summer of 2005 the manor house was sold. The new owners then restored it with great attention to detail and all due regard for its listed historic status. Restoration work at the house was finished in 2006, there are now several private apartments and three beautiful holiday flats.
See also: www.meinlandsitzluckwitz.de

---
Keywords: